Writer-arts promoter Charukesi passes away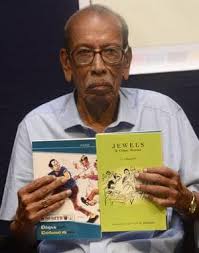 He would have made a colourful character for R. K. Narayan. Or for cartoonist Madhan. The wiry, lean spectacled man in shirt and trousers of the 60s, striding down C P Ramaswamy Road, from his home in a street of Abiramapuram to his haunt at the Narada Gana Sabha auditorium. Often a book or a cover in his hand.
The sort of man who would easily be lost in the crowd. That was Charukesi.
The journalist-writer-arts promoter whose pen name was Charukesi passed away this morning ( January 30) after a long, quiet battle against cancer.
For over a year, he had kept to himself, undergoing the rigours of cancer treatment, resting at home in peace and then making a quiet exit, perhaps the way he would have wanted it.
Since his working days in western Indian, he wrote widely as a freelancer but his long form journalism was highlighted in Kalki; one series covered every Tamil Nadu district.
In recent years, his features and reviews on music and dance, on Thamizh literature and creative people were featured in The Hindu and Kalki.
He was a core member of Natyarangam, the Narada Gana Sabha initiative for classical dance, and he wrote fiction and promoted Thamizh literature and writers.
The funeral is expected this Wednesday evening. Contact: Balaji – 9840503447
Photo: The Hindu
This entry was posted on Wednesday, January 30th, 2019 and is filed under
Obituaries
. You can follow any responses to this entry through the
RSS 2.0
feed. You can skip to the end and leave a response. Pinging is currently not allowed.