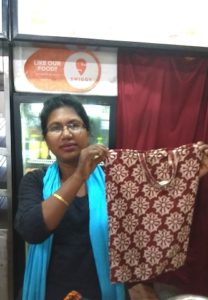 At Fried Mirchi, a food joint at East Mada Street you get parcels in a cloth bag – in case you are not carrying one.
And these cloth bags are stitched out of waste blouse/salwar materials as an alternative for plastic bags.
"I run a stitching unit. We get a lot of waste bits of blouse/salwar every day. A friend suggested this idea," says Jyothi Joel, the food joint owner's wife.
"In the beginning, we used brown paper covers. But then those could not be reused. The Swiggy delivery boys too found it difficult to carry so we came up with this idea," she says.
The Joels have hired two staff exclusively to stitch these bags. It is also their idea to provide employment for the duo who traditionally stitch cloth bags (manja pai).
The bags are priced from Rs.5 to Rs.20 depending on the size.
The duo are open to taking bag orders. Contact Jyothi – 9841440099.
Their boutique, J.P.Fashions is at Melody Towers, Papanasam Sivan Salai, Mylapore.