Chennai Metro takes over part of playground in R. A. Puram. Youth complain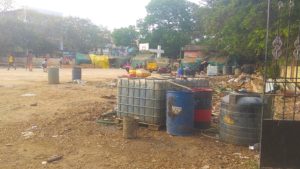 Since a few weeks, the soil testing for corridor 3 and 4 of Chennai Metro's phase 2 project has been on in many parts of the Mylapore zone.
It started early at the R. A. Puram Chennai Corporation ground, opposite to Jesus Calls prayer hall.
Contract workers performing the soil tests have taken over one end of the ground, off the basketball court.
The workers have erected huts along the wall. Drilling machines, stones and other soil-testing tools are spread across the entire area off the basketball court.
Many lorries are parked here. Also, private vans now treat this as a parking lot.
The result – local area youths who play here are unhappy with this development. Says V. Shyam, a boy from Mandaveli, "It is creating a lot of disturbance for us."
A geotechnical engineer of this project, who was at the site says, "Since we didn't get any nearby space for the worker's accommodation they (Chennai Corporation) allowed us to use this space. They have asked us to return the ground in the same condition."
The contract workers, from Bihar and Madhya Pradesh, are seen bathing, cooking and washing clothes here. The waste water stagnates around the construction debris.
The boys playing on the ground say the mess adds to their inconvenience. K. Sanjay, who was playing cricket says, "Our balls now fall into the dirty water and we have to pick them up often. It is smelly."
He says that area of the ground is now muddy too.
Kishore Kumar from Mandaveli who was playing here says, "Two or three Metrowater lorries are also stationed here on a daily basis."
This entry was posted on Monday, May 13th, 2019 and is filed under
Chennai Metro
,
Civic
. You can follow any responses to this entry through the
RSS 2.0
feed. You can skip to the end and leave a response. Pinging is currently not allowed.