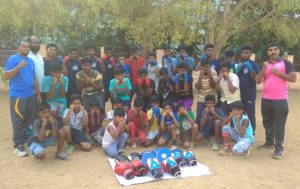 A team of 10 professionally trained boxers of Visalakshi Thotam, Mandaveli are conducting a free boxing summer camp at Mandaveli Corporation Ground off St Mary's Road, Mylapore.
"Our main aim is to spread awareness regarding boxing. Many people don't think of it as a sport and avoid pursuing it. So, we are providing awareness through wall posters and social media platforms," says M.Karthik, who trains the kids at the camp.
"When we started the camp last year there were only 10 children. But this year there is a vast improvement and we have got 40 children," he says.
The boys have trained at V.S.Boxing Club, Egmore."Our coach Prithivi Raj is a senior boxer with 15 plus years of experience in the field. We have got free coaching from him, hence we want to pass on the same to poor and underprivileged children," says Karthik.
"We also help the children by providing gloves and other required materials", says Prithivi Raj, the coach.
Prithivi's friend Ibrahim is a member of Tamil Nadu Sportsman Association. Ibrahim says, "I help in arranging the sponsors and paperwork when the boys go to the district/national level meets."
K.Sukumaran and a few other residents of Visalakshi Thotam are also providing support to their boys by offering milk, bananas/boiled eggs to the children at the camp.
The camp will be on till May 20 in the morning from 6 a.m. to 8 a.m. Contact 9884671133 for details regarding the boxing classes.