Mylapore district gets a new DCP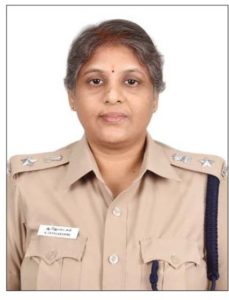 A. Jayalakshmi has taken charge as the deputy commissioner of police, law and order, of  Mylapore District recently. Prior to this, she was the deputy commissioner of police, administration, Greater Chennai Police, for two years.
When asked what her plans for Mylapore are, she says, "I first request the residents to ensure that their vehicles are parked in the right spaces inside their homes or apartments. Parking on the roads disrupts vehicular traffic".
"Secondly, each and every street needs to have a CCTV camera. Residents have to ensure that one of the cameras that are being set up inside their homes points out to the street also.  If that is not possible, resident associations can pitch in and set up cameras in their street premises. They can always approach us if they need any help. Thirdly, motorists need to understand that the police enforces the usage of helmets for their own safety".
This entry was posted on Friday, August 9th, 2019 and is filed under
Crime, Law & Order
. You can follow any responses to this entry through the
RSS 2.0
feed. You can skip to the end and leave a response. Pinging is currently not allowed.