Frenetic shopping on mada streets for Vinayaka Chaturthi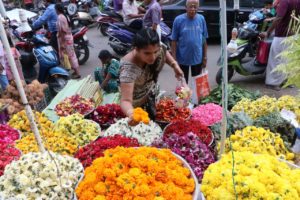 Come festival season and the mada streets around the Sri Kapali Temple in Mylapore get into overdrive as far as hawking goes.
And so it was on Sunday, a holiday as hawkers set up stalls to display and sell a range of images of lord Vinayaka, and all that was needed for the Vinayaka puja on the morrow – flowers, thoranams, paper umbrellas, fruits and more.
Since early afternoon, the pavement hawkers got going and shoppers began to flood the place on the north and south mada streets early. It did not rain so shopping went on at good pace and the streets were abuzz even as late as 9 p.m. when the skies got cloudy.
This entry was posted on Sunday, September 1st, 2019 and is filed under
Shopping, Stores
. You can follow any responses to this entry through the
RSS 2.0
feed. You can skip to the end and leave a response. Pinging is currently not allowed.