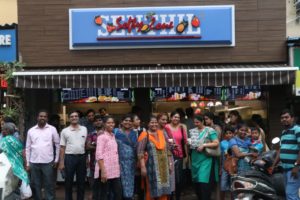 Food Walks are always popular in this city. Even if they are repeated many times over in one area. So The Mylapore Food Walk held on Saturday evening in Mylapore as part of the Madras Day celebrations drew a goodly crowd despite prediction of rain.
Led by the every-enthusiastic Sridhar Venkataraman who held three other Food Walks this August, the foodies assembled at the top end of North Mada Street and explored a few food joints which offer some of the best snacks in this part of the city.
One such place was Senthil's Soft Zone on Kutchery Road which has expanded because its snacks and drinks has been a big hit with foodies.
If Food Walks in the city interest you, join the group at – https://www.facebook.com/groups/chn.fw/