Police commissioner talks about Kavalan App at Queen Mary's College event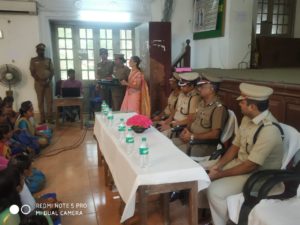 Chennai City Police are on a campaign to make people aware of the Kavalan SOS App which can come in handy when people feel unsafe or a crime is attempted or committed.
The App alerts the police double fast and helps police respond locally.
To promote the App and its usage, Chennai Commissioner of Police, A. K. Viswanathan took part in a awareness programme held at Queen Mary's College on Dec.10. Senior police officers were also present.
A few hundred college girls attended this event. The college principal, Dr. S. Shanthi welcomed the guests.
On the dais along with the police commissioner were senior  police officers Prem Anand Sinha (additional commissioner), Deshmukh Shekhar Sanjay (deputy commissioner of Mylapore zone) and Sudhakar (joint commissioner).
– Report by Varalakshmi Anandkumar
This entry was posted on Thursday, December 12th, 2019 and is filed under
Campus News
,
Community
. You can follow any responses to this entry through the
RSS 2.0
feed. You can skip to the end and leave a response. Pinging is currently not allowed.