Banas boutique moves to new space in Alwarpet. Block prints is special here.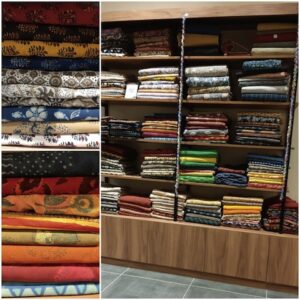 Banas the fabric shop (originally called Banas Ethnics) has recently resumed its business after the pandemic break and is now at a new address close to where it was located in Alwarpet.
Banas specialises in block prints, the age-old technique of printing fabrics using wooden blocks and herbal dyes. The somewhat
unevenness of these handmade products adds depth and character
to the beauty of design and fabric.
Banas offers sarees, yardage, salwar fabrics and other accessories in variety of cottons, Khadi, Chanderi, Tussar silks, linen, Awadh Karigari and more.
It also offers personalised tailoring for its clients.
The store is open from 10:30 a.m. to 8 p.m., Monday to Saturday at the
new address – Saptagiri Apartments complex, 83/187, TTK Road, (next to the Dell computers store), Alwarpet, Chennai 18.
Contacts – Mobile: +91 98409 15929, E-mail: banasfabshop@gmail.com
This entry was posted on Sunday, December 20th, 2020 and is filed under
Lifestyle, Stores
,
Shopping, Stores
. You can follow any responses to this entry through the
RSS 2.0
feed. You can skip to the end and leave a response. Pinging is currently not allowed.