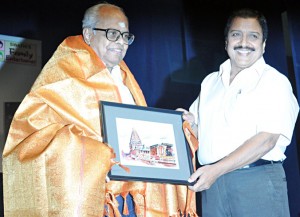 The 80th birthday of the film legend K. Balachander was celebrated on July 9.
The event was held at Chettinad Vidyashram Auditorium, R. A. Puram with the release of a set of DVDs of K.Balachander's TV serials.
The event was organised by Swathi Soft SOlutions.
Photo shows actor Sivakumar honouring Balachander. Balachander is a resident of Warren Road.