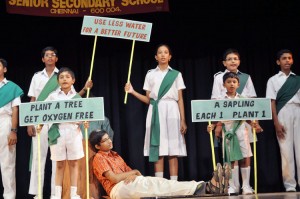 Sir Sivaswami Kalalaya S. S. School celebrated their Annual Day on July 23 at The Music Academy.
The program was titled 'Kalpavruksh – Earth's treasure – trove'.
Gayathri Sriram, Managing director, UCAL Products Pvt. Ltd. and UCAL Auto Pvt. Ltd. was the chief guest for the event.
Students presented various items like plays, dance and drams to bring out the theme of the program.
The 'Best Outgoing Students' awards was given to B.P. Priyadarshini, commerce group and K. Sooraj, science group who had excelled in the board exams.
The school can be reached 24641257/ 24620712. Click here to see the photo gallery of the Annual Day.