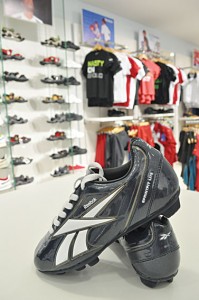 Reebok has opened a new store on C. P. Ramaswamy Road, Abhirampuram.
This is a Reebok Juniors which means the store is exclusively for children of ages 4 – 16 years, says Radha Krishnan, Reebok's area manager.
Apart from sports shoes and allied footwear, the shop also sells T-shirts, shorts, bats and balls, laptop bags and school bags.
The shop also sells school shoes and canvas shoes.
Shoes are priced Rs.1299 upwards and apparel are priced at Rs.299 upwards.
This shop is a franchisee of Sun Corp. Lifestyle Pvt. Ltd. based in Hyderabad.
The shop is open from 10 a.m. to 9.30 p.m. on all seven days of the week.
It is located at 53/1, C. P. Ramaswamy Road, Abhirampuram. Ph: 4553 5548.