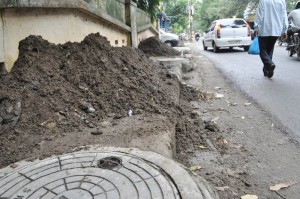 In view of the upcoming north – east monsoon the Chennai Corporation has been clearing storm water drains in the city. This is done to avoid flooding and water stagnation.
Krishnamurthi, Assistant Commissioner of Chennai Corporation's Zone 10 says that the operations are on in various places.
Last fortnight, this reporter saw men at work in the streets around the Corporation playground on St. Mary's Road, R. A. Puram. (seen in the photo)
The AC says residents can either contact him or the Area Executive Engineer (AEE) if the storm water drains in their area have not been de-silted.
When MYLAPORE TIMES called the AEE, he said that the teams have been clearing storm water drain in areas where the orders have been issued to them. But he refused to give more details and disconnected his cell-phone.
The Asst. Commissioner can be reached at 94451 90210. The AEE can be reached at 94451 90220.