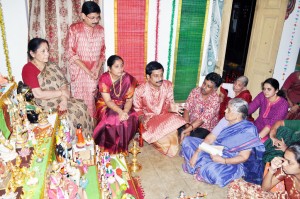 Sumukhi Rajasekharan Memorial Foundation in R. A. Puram organised a 'Navarathri Kolu Padhathi' on October 2 evening.
Ten women took part in it. Brothers Amarnath and Surendranath along with sister Aparna took turns to tell them how to arrange a kolu, the significance of the rituals, the themes that can be used to do up the kolu and how to pack and preserve the dolls.
An interactive session followed. Popular actor Revathi Sankkaran also share some insights with the women.
You can contact the organisers at 93826 98811 / 93810 38385.