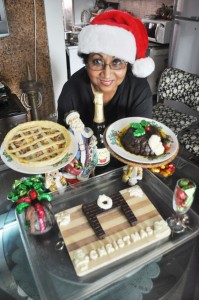 Christmas is at hand. And the preparations will begin.
An indication of this can be seen at the store managed by nuns on the campus of St. Thomas Cathedral, where shoppers are looking for crib sets, buntings, greeting cards and decorations.
In Luz, the general stores have put out the Xmas decorations as the season unfolds. There are a few people and places in the area where the buzz is on.
Rich traditional Christmas cake is what Punitha Coilpillai is famous for. Apart from running a boutique she has been making the traditional Christmas cake for years now.
A resident of CIT Colony she says that her cakes do not contain maida and are filled with 16 varieties of dry fruits and nuts.
The speciality of making cake the traditional way is that is has a longer shelf life and can stay good upto 6 months, she says.
The nuts and fruits are soaked in rum and it improves the shelf life of the cake.
She says she starts baking from the last week of November and sells nearly 75 kilos of cake per year.
The cakes are priced at Rs.900 per kilo and you can also buy in half kilos.
Punitha can be reached at 98842 41032.
Mumtaz Alam from San Thome prepares Brownies, plum cakes and almond cakes for Christmas (Seen in the picture). The brownies are priced at Rs.25 per piece and the plum cake is prized at Rs.600 for half a kilo.
She also takes cooking classes on turkey, chicken and duck.
She can be reached at 98414 27217 / 99400 59217.
You can order for rich traditional cakes, fruitcake, sponge cake and chocolates from Rani Rodrigo. She is a resident of Karpagam Avenue.
She makes three different flavours of sponge cake namely chocolate, coffee and butter.
The rich cakes are sold at Rs.900 per kilo and the fruitcake is sold at Rs.400 per kilo.
Chocolates are sold in kilos and smaller quantities of 100 grams.
Rani can be reached at 9884037121.
At Padmashri Foods in CIT Colony you can order for plum cake, Missisippi mud cakes, Tosca cake and home make chocolates.
Though these cakes are available throughout the year the plum cakes are a hot favourite during Christmas, says Padma Naik, the proprietor.
The plum cake is priced at Rs.330 and chocolates are available at Rs.600 per kilo.
The store can be reached at 4, Second Cross St., CIT Colony, Mylapore. Ph: 2499 7567 / 2499 5701.
<< Do you know of people / nooks which make and sell great stuff at Christmastime in our area? Alert us – call 2466 0269 – Editorial.