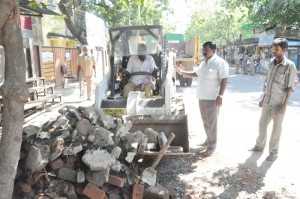 Local wings of Chennai Corporation cleared the pavements alongside Sai Baba Temple in Mylapore on Monday, November 29.
Hawkers, stalls, materials and more were removed by the workers who had police protection.
This campaign was said to be the result of complaint registered by the temple authorities who found the encroachments affected smooth flow of devotees to this popular shrine.
Elsewhere in this zone, staff engaged by Chennai Corporation have been clearing illegally developed temples and shrines on roadsides.
Workers at the Saibaba Temple site said they were executing orders given by their seniors.