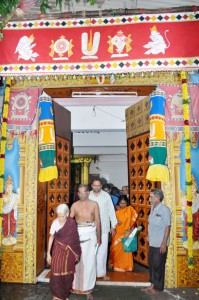 Vedantha Desikar Devasthanam, Mylapore saw a huge stream of devotees who waited to pass through the Sorgavasal on the important Vaikunta Ekadasi day, Friday, December 17.
Devotees who numbered close to 1000 had a darshan of Perumal adorned in the Ratna Angi while police personnel also patrolled the premises.
The Sorgavasal which opened at 4.30 a.m. remained open till 10.30 p.m.