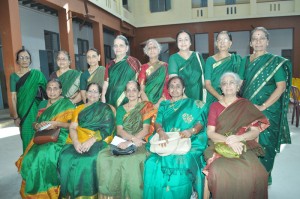 Four neighbourhood schools had their Alumni meets on January 26 at their respective school campuses.
Lady Sivaswami Ayyar Girls School had specially invited three alumni to join in this get together. In the early years of the school, the classes followed a co-ed system.
Students from 1954 batch were present in large numbers. Leela Narayandran, secretary of the school was also a past pupil. She passed out in 1954.
14 students of 1961 batch decided to wear a similar coloured sari for the occasion, they all came dressed in green.
Some of the retired teachers were also present at this event.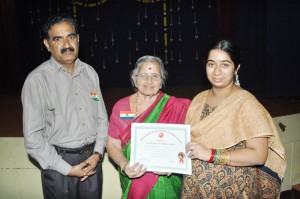 At the alumni get together of Sir Sivaswami Kalalaya HS School, Mandaveli there were a few special moments.
T. K. Meenakshi from 2002 batch was awarded the "Behind the Scene" certificate for organising the Decafest Celebration last year.
Over snacks, alumni students shared their memories of their school days.
January 26 is always Alumni Day for Old Bedeans.
After an hour of formal meetings the alumni tried their hands at the different games that were organised for them. Lunch was served to all the alumni.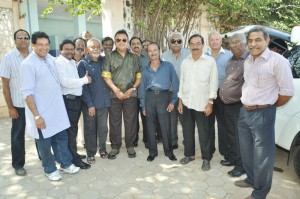 Former T N cricket player A. G. Harjnder Singh of 1968 batch and actor Radha Ravi of 1970 batch were along the personalities who dropped by and went down memory lane.
Contact Davis of the Old Bedeans (Ph – 98402 7233) if you wish to register as an alumni.
The star event at the alumni meet at Rosary Mat. School was the 'Diamond Fancy Fete' which opened its gates at 2 p.m.
Various food and games stall were set up in the school premises.
The school had organised dances, plays and a fashion show for the alumni.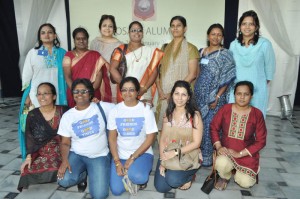 Lily Muthiah, a senior principal of the school (1962 – 1984 period) was present. She was also the first teacher to receive the 'Best Teacher Award' under the Matriculation Board awarded by the Govt. of Tamil Nadu.
At the end of the Fete a red carpet event titled "UniverCell Pride of Chennai" Award was given to Justice Prabha Sridevan, senior retired judge of the Madras High Court, Sheela Rani Chunkath, senior IAS officer of the TN cadre and Lakshmi Viswanathan, senior dancer and writer. The three awardees are alumni of Rosary Matric.
If you wish to register as alumni of Rosary Matric, call Biju Jayadevan 98400 24585 or Priya Krishnaswamy 98840 36200.