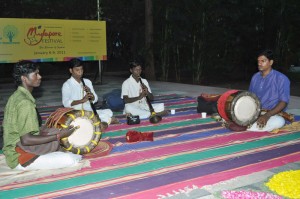 The 2011 edition of the annual Sundaram Finance sponsored MYLAPORE FESTIVAL got underway on Thursday morning with a nadaswaram concert at Nageswara Rao Park.
Sundaram Finance Vice President, S. Sivakumar and his colleagues lit a lamp to mark the launch the traditional way. The students of the Govt. College of Music performed on what was a still morning, the nip in the margazhi air missing.
As the  walkers and fitness freaks who head to this park in droves went about their regimen and some stopped by to take in the music,the buzz about the Fest got around.
Preparations went into the final stage this morning at all the venues – the streets around Sri Kapali Temple.
The main stage square looked colourful and Kathiravan and his team fixed colourful cloth flags and banners and Bhupalan and his team fixed the lanterns that will create a fest atmosphere on the four evenings from today.
Pandu and his team have created the stalls, stages and booths for all the events, some 30 plus that will be held these four days.
Photographer R Saravanan has arranged an exhibition of the best photos clicked by children on their Mylapore Photo Walk on Christmas day ( near the theradi) while volunteer Murugan has begun selling Fest T shirts from the Info Booth near the ther.
As the eight teams of food vendors move into Sundareswar Street at 4.30pm and begin to cook the snacks and array of traditional dishes which are always a sellout here, the flavour of the Fest will draw in the hundreds who call this Fest their own and soak in the events and the action that runs on till 10 p.m. on all days.
More info and pictures at – www.mylaporefestival.com
More short videos are posted on YouTube daily.
More updates on this site daily.
Do email your comments and memories.