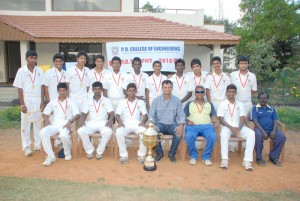 The finals of the P. B. Trophy Cricket Tournament 2010 – 2011 took place on January 24 at Murugappa Grounds, Avadi.
The final match was played between Modern Sr. Sec. School, Nanganallur and St. Bede's Anglo Indian Hr. Sec. School, San Thome.
St. Bede's won the match with 76 for no loss in 14.4 overs. The man of the match was B. Indrajith from St. Bede's.
Hemang Badani, Indian Cricketer was the chief guest on the final day.
He also gave away the trophies to the winners and the special prizes.
The school also won three special prizes. B.Aparajith won the best batsman award and best player of the tournament with 310 runs in 4 matches and 6 wickets and A. Venkatesh won the best bowler award with 9 wickets in 4 matches.
The two received a special award of Rs.5000 each.