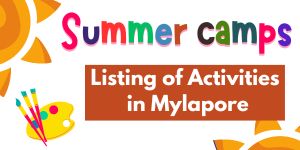 STORIES, SLOKAS / SPIRITUAL THEMES : This summer camp is focussed on spiritual and cultural themes and covers Story-telling and Slokas learning. The camp is from May 8 to 19, 10 am to 12. noon ( no classes on weekend). Venue; Sir Sivaswamy Kalalaya Sr Sec. School, Sundareswarar Street, Mylapore. Call K. Sriram at 8610020904
ART: Learn various artworks Warli art, fluid art, canvas painting, pebble art, Pichwai painting, tribal art, glass painting, Mandala painting and doodle art at Children's Land in Alwarpet from May 2 to May 15 in the morning on weekdays. For further details call 80721 96323
GYMNASTICS: Learn floor exercises and develop flexibility with front roll, front roll leg split, back roll, back roll leg split, cartwheel and handstand at Children's Land in Alwarpet from May 1 to May 27 in the evening on weekdays. For details call 80721 96323
MATH: Shankar's Academy on Dr Ranga Road offers bridge courses in math for State Board students. Short term. Call 6380118336.
ARCHERY, DRAMATICS: Children's Club at V. M. Street, Mylapore has courses in Archery and Dramatics ahead. Archery course open to kids 8 to 14 yrs old,held over 10 days. Dramatics is for 15 days and open to kids, 8 to 14 years. Sign up at 9444026237.
ORIGAMI, TABLE TENNIS, CHESS: National Boys & Girls Education Society, Mylapore offers free, short-term courses in Origami, story telling, shlokas, table tennis, chess and carrom at the Radha Swami Centre of Excellence in Mandavelipakkam. Call 9962267390. First come, first serve, limited seats.
YOGA, SHLOKAS, MORAL STORIES : Sri Ramakrishna Math, Mylapore offers a variety of courses for children at its Balamandir summer camp -for children aged between 8 to 13. Covers shlokas, storytelling, yoga, and more activities 'that will help them to develop good character and acquire moral values'. From May 1 to 31. For others, there are classes in Tanjore art, spoken English, spoken Hindi, and in Sanskrit. Call 9941855565 / 9941855592.
KOLAM FOR TEENS : Kolam designer expert, Dr. Gayathri Sankaranarayan, is conducting a Kolam workshop for children from May 8 to 13 for 6 days – 4.00 pm to 6.00 pm – at CIT Colony, Mylapore. Her contact is 9840118711.
FUSION NATYAM : Specially choreographed for beginners to learn classical dance steps along with freestyle movements for popular film music. A one-day camp by dancer Deepthi. Morning batch: 9:30am to 12:30 pm. Kids from 7 to 17. Evening batch: 4 – to 7 pm. Adults from 18 onwards. Fees: ₹500. Contact: 98414 02156
CARNATIC MUSIC: VOCAL, VEENA : Hamsanadam offers basic and advanced Carnatic music lessons in vocal and veena – in person and online too. Call Dr Subha Ganesan: 9962927930.
MUSIC, CRAFT : Yoga and dance, art and craft and classes in spoken Thamizh, in English and in Hindi. For kids from 3 yrs onwards. Call 7010383894.
DRAWING, GAMES : Mahima Cultural Centre on Karaneeswarar Koil St. offers activities in yoga and craft, fun games, languages and writing and drawing. Call 9840388066.
FITNESS, GYMNASTICS: A curated set of activities for the physical and mental faculties as fun activity by Kea Mind Studio – to ensure that children develop holistically with a strong foundation of both mental and physical muscle, assertiveness, confidence, develop their social skills and be able to think creatively. The camp is conducted on weekdays for 2.5 hours per day. In Mylapore. Fee; Rs.3,000. Call 9840496035
WATER COLOUR PAINTING:  This workshop by Anahata on April 29 and 30th April. Time: 3pm to 7pm on both days Fee: Rs.3,800 per person (all materials & equipment included). The two days workshop will focus on different brush techniques, usage of light & shade, colour theory, colouring mixing and gradients and will teach how to paint a still-life composition and a landscape painting. Register via the following link: https:// linktr.ee/ artkincentre. Or contact: 99620 13678
WORKSHOP FOR CLASSICAL DANCERS: Bharatnatyam's guru Chitra Visweswaran's Chidambaram Academy of Performing Arts, is conducting an Abhivridhishala (workshop) 'Bharata Robi' – Influence of Natyashastra 's Theory of Dramaturgy in Tagore's Plays; it is led by Anusuya Banerjee. Open to all.
April 29 to May 2 | 6pm to 8pm | Venue: Chidambaram Academy of Performing Arts, Alwarpet. Contact: 72003 87106
STORY-TELLING : Curious Kids is hosting a camp from May 1 to June 2. Rohini Sathish, founder and director of Curious Kids, will also be conducting a free Story Telling session for children by various storytellers at the carnival. Venue : Atma Shala, Venus Colony, Alwarpet. Limited seats available: pre – registration mandatory. For more information check: www.curiouskids.co.in. Ph: 63824 98183.
YOGA : For children, May 1 to 13, mornings. From the Surya namaskar to the basic asanas, taught the traditional way. Rs.15000. Call 7598103630
ART, DANCE: CK Wonder Kids based in Bheemasena Gardens, Mylapore offers a basket of activities like art, dance and music. Call 42124100. This place is a pre-school centre.
ONLINE CLASSES ON NATURE: If your child loves animals and birds, here is an interactive online workshop conducted by twelve-year-old Atharva Gupta residing in R A Puram. The month-long workshop starts on April 14 and will be held thrice a week from 3pm to 3.45 pm. For registration, call 8148904953
FITNESS, ZUMBA: Experienced professionals Tulsi Priya and Nandagopala, founders of Siksha Shaala Sports Academy who are trained at YMCA and at Australian Strength and Conditioning Academy respectively are conducting a month-long fitness camp. Children will be trained in athletics, Silambam, Zumba, from April 10 onwards at the new Sprouts high school campus, behind Nageswara Rao Park. Also, exposure to various kinds of ball sports. For details contact: 7358471574
ROBOTICS & CODING : Learn and explore the world of robotics and coding at Inganam STEM Center – for children between the age of 4 and 15 years during April and May at their centre in Alwarpet. These workshops will introduce young students to basic engineering principles of simple machines, construction engineering design, and graphical programming via hands-on experience / class activities. For registration contact : 99 40 11 95 25 / 93 60 81 85
PAINTING, DESIGNING / FOR GIRLS : 10-day art workshop for girls above 10 years covering fabric painting, leaf painting, free-hand painting and envelope designing will be conducted by artist Kamala Hariharan at 122, 4th Street, Karpagam Avenue, R. A. Puram in April. Contact – 97908 50575.
INDOOR GOLF : An indoor golf centre – Golfer's Edge Chennai – in Alwarpet – fully air-conditioned facility has a summer camp for kids between 7 and 12 years. Golfer's Edge Chennai has partnered with Golphin, a company from Scotland that designs and manufactures junior golf sets and will use Golphin's proprietary mobile app – MyPathway2Golf to make learning fun. Golfer's Edge is at 14, Eldams Road. Ph: 9342272041
QUIZZING, NEWS REPORTING : The Children's Club has two summer camps for school children: Camp 1. Quiz Camp (age 8 to 14) From April 24 (5 days). Beginners can join the Quizzing fun! Camp 2: Young Journalist Programme (age 11 to 15). From May 1 ( 6 days). Learn the basics of producing a newspaper. For entry forms, details contact: 94440 26237 / 94860 10042 / 73587 48213
CRICKET: Chennai Cricket Academy camp for both boys and girls. From April 14 for a month at Queen Mary's College. 6 to 8 am and from 4 to 6 pm. Camp run by R. Bala Chander, coach for 25 years, Call 9566160067
WESTERN MUSIC: Galilee Academy, San Thome hosts a camp to train you in keyboard, guitar, vocal Western music, drums and keyboard. This place has trained hundreds over the years. Through April and May. Call 9840053062.
ART: Global Art's local unit offers training in drawing and painting. Summer time and full time courses. Call 9840225570
MULTI-ACTS: Kids County is offering a melange of activities at its camp. Call 9444679733.
MUSIC, ART: Shruthilaya School of Music and Arts, Mandaveli offers Carnatic and Western music classes – veena, violin, vocal. keyboard and guitar. Also, classes in Tanjore art and glass painting. Open to children and to women. Call 9841700157