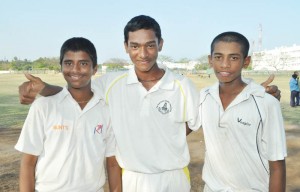 Two Mylapore school cricket teams will battle it out in the final of the prestigious TNCA Sumeru Soft city schools tournament.
They are St. Bede's and Chettinad Vidyashram.
In the semi-final matches held at St. Bede's grounds on February 10, they won their matches comprehensively.
St. Bede's beat P. S. Senior School in one match and Chettinad Vidyashram beat PSBB, K. K. Nagar in an another match.
P. S. Senior scored 192 losing 9 wickets in their 50 overs. Their star was M. Sairam who scored a century. He ended with 107 runs but the rest fell by the wayside.
St. Bede's replied with 195 for 6 wickets in 45.4 overs. M. S. Washington Sundar scored 76 runs and Daryl S. Ferrario hit 62 runs. P. Raghavendra scored the crucial 28 runs that took his team to victory (Seen in the picture).
K. M. Sharan from P. S. Senior took 3 wickets.
In the other semi-final, PSBB from K. K. Nagar batted first and scored 134 runs in 38.5 overs. The Chettinad bowlers restricted them. M. Siddharth took 6 wickets for just 16 runs while Pradhan Bharath took 4 catches.
Chettinad Vidyashram cruised to victory, losing just 3 wickets and scoring 135 runs.
Pradhan Bharath scored 67 and Shyam Sundar scored 42 runs.
The date of the final is yet to be fixed.