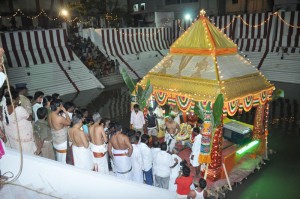 The image of Perumal and Amritavalli – thayar was taken in the float during the teppam festival at Sri Madhava Perumal Temple. The festival began yesterday, February 18.
On day 2, it will be Sri Ramar and on day three, the image of Peyalwar.
The tank inside the temple premises, located on the left, is small with about 25 steps and a base with water that can accommodate a small float that can caray about 9 people.
So only the priests are normally allowed inside the float, said a local official.
The contact phone number here is 2498 5112.