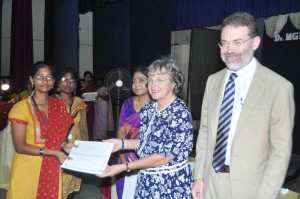 The 15th college day of Dr. MGR Janaki College of Arts and Science began with the lighting of the lamp on March 29 at the college premises.
Andrew T. Simkin, Consul General of the United States of America, US Council General, Chennai was the chief guest.
He delivered the college day address while Elizabeth Simkin distributed the proficiency prizes to the students.
Seen in the picture is Elizabeth Simkin distributing the prize to a student. Also seen in the photo is Andrew T Simkin.
The college day report was read out by Usha Krishnan, principal of the college. This was followed by cultural programs presented by the students.