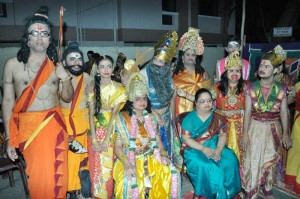 Students of the Rasa Special School in Abhiramapuram pose dressed as different characters for the play titled 'Anbu'.
The play Anbu, was a multimedia presentation of Indian dance theatre by 200 special children.
This was held on February 25 at Narada Gana Sabha.
Many children from several other special schools were also present on the occasion.
Rasa – Centre for Theatre Arts and special Needs is located at 1/1, 1 Street, Abhiramapuram. Ph: 2499 7607, 6528 1970.