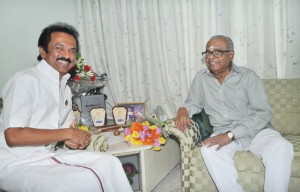 Celebrated film director K. Balachander who resides in Mylapore has been chosen for the Dadasaheb Phalke award, India's highest award for a film personality.
Balachander has made landmark films from the era of the black and white to that of colour and got lots of attention even in his TV serials which have kept him busy lately.
The news of the selection for the honour broke late on Friday and KB, as Balachander is known all over was flooded with interview calls from the media.
On Saturday morning, there was a stream of visitors to KB's apartment at 34, Bhaktavatsalam Road (Warren Road) – Vinayaka Apartments – in Mylapore.
KB went out in the morning to meet TN chief minister M. Karunanidhi at the latter's residence, not far away from here. When he got back at 10.30 a.m. DMK leader and deputy CM, M. K. Stalin dropped by to wish the celebrated director. Other film personalities came by too.
Balachander has been a longtime resident of this area, moving out when the bungalow where he resided had to make way for apartments.
His plays have been staged at sabhas in the area and his films have been based on the lifestyle trends of Mylaporeans.
He is guest at the many drama fests that sabhas hold here annually, continuing a relationship that began with his debut as a writer and director of plays.