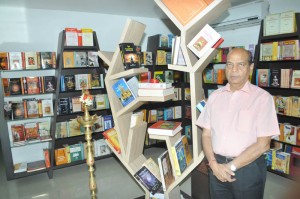 Motilal Banarsidass (MLBD) publishing house headquartered in Delhi is known around the world for its publications on Indian religion, philosophy, music, art and culture and such allied subjects.
It has a branch on Royapettah High Road, near the main Vivek showroom. This place was recently renovated.
A formal function was held on April 23 and N. Ravi, editor, The Hindu was the chief guest. Justice S. Mohan was the guest of honour.
J. P. Jain, one of the directors of the store was present on the occasion.
Motilal Banarsidass was established 100 years ago by Motilal and his wife as a small Sanskrit religious bookshop in Lahore, the then capital of the undivided Punjab.
The publishing house is currently managed by the third generation family members and it has expanded into many different areas of publishing, marketing and export. They have 8 stores in India and 3 abroad. The store at Chennai was open 25 years back.
The publishing house works exclusively on Indological books.  You can browse through a variety of books on Hinduism, Buddhism and Jainism, on  Ayurveda and Indian and Asian philosophy – all written by scholars in the fields.
Venkatesh, branch manager says that the people who frequent the Mylapore store often are researchers, foreigners and students of philosophy. "We also get people who want to understand the Indian culture better," he adds.
The store sells only the books that are published under Motilal Banarsidass imprint. The newly renovated space has been air-conditioned. It has easily accessible shelves and has a space for people to sit and browse through the books, says Venkatesh.
The MLBD is known for some priceless works. It has printed 100 volumes of 'The Mahapuranas' and 50 volumes of 'Sacred Books of the East'.
The store is located at 203, Royapettah High Road, Luz, Mylapore. Ph: 2498 2315, 3290 2598.