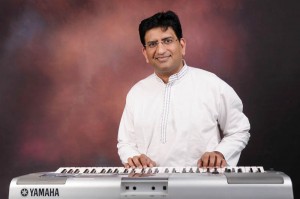 Musician R. N. Ramkumar has recently brought out an album titled "Fusion Rocks".
Music director Bharadwaj released the album and the first copy was received by Embar Kannan, well known violinist.  The songs are instrumental and are a mix of Indian and jazz.
Ramkumar composed the songs for this album. He is a resident of Luz Church Road. He is also a professional mridangam player.  The album the features well know artistes Rajhesh Vaidya and Embar Kannan.
The CD is sold at all leading musical stores in the city. You can also pick up a copy from Ramkumar. He can be reached at 98402 99384. For more information about the album log on to http://www.fusionrocksrnr.blogspot.com.