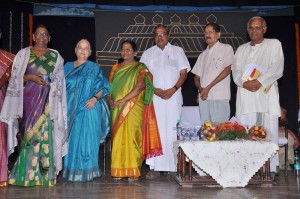 The Children's Garden School Society celebrated its 74th Founder's Day and annual variety entertainment on Sept. 7 at Naradha Gana Sabha.
Dr. R. Rajamohan, Member, National Shipping Board, Ministry of Shipping, Government of India and Chandrika Rajamohan, Ex-Standing Committee Chairman, Corporation of Chennai presided over the function.
B. Snehapriya, school topper in Plus two and Bhagyasree, school topper in std.10 were awarded on that day.
C. R. Vijayalakshmi, the Headmistress was given the Best Teacher Award (seen in the pictures). The retiring teachers were also honoured. Students of kindergarten to the higher secondary presented cultural programs.