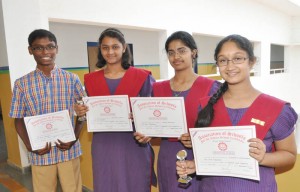 Hari Shree Vidyalayam conducted the Tamil Nadu regional level debate, declamation and creative writing contests for students.  About 10 city school participated.
In the declamation contest the students of Hari Shree Vidyalayam emerged winners. The participants were Shraddha K. Padmanabhan and Sumyuktha V. Anand.
Siddarth P. Chokkalingam and Aparna Ramanujam emerged runners up in the debate contest.
The school has qualified for the national level contest in declamation.
Seen in the picture (left to right) Siddarth P. Chokkalingam, Sumyuktha V. Anand, Aparna Ramanujam and Shraddha K. Padmanabhan.