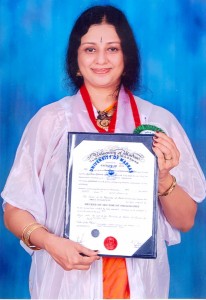 Priya Jayaraman a resident of Karpagam Avenue has been awarded a doctorate in dance by the University of Madras. She was registered at the Dept. of Music, Queen Mary's College.
Her thesis was on 'Prabandha -s, Jakkini Daruvu -s and Tillana -s – A study'. Her guide was Dr. M. A. Bhageerathi.
She was awarded the degree by K. Rosaiah, Governor of Tamil Nadu at the 154th  annual Convocation of the University. She did her M.A. in Bharatanatyam from the University of Madras.
Priya has been learning dance under the guidance of her mother Dr. Saraswati. She resides at 113, 4th Street, Karpagam Avenue, R. A. Puram. Ph: 2493 7989.