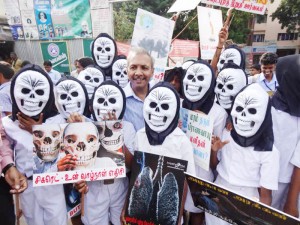 The students of P. S. High School, Mylapore and Cipla, Breathefree – a service organisation organised a rally cum human chain on Nov.16. This was an initiative to discourage people from smoking.
Each student wore a skeleton mask and held placards which had crisp messages for public about the hazards that people who smoke will encounter.
The rally began from P. S. School campus and ended at the MRTS station in Mylapore . About 100 students and 50 people participated in the human chain.