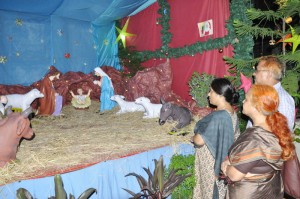 Christmas was celebrated in a grand manner in this neighbourhood. Many people had decorated their houses with colourful danglers, Christmas tree and stars outside. The churches were also decorated with lights and danglers.
The English – speaking community at the National Shrine of St. Thomas Basilica gathered in large numbers for a special Holy Mass on Christmas eve at the Church.  The choir sang carols and let the congregation into the Christmas spirit.
Newly – married couple, Sheila and Rohit Nathan were all excited as they geared up to celebrated their first Christmas together. They were assigned to take the image of baby Jesus on to the stage during the Mass.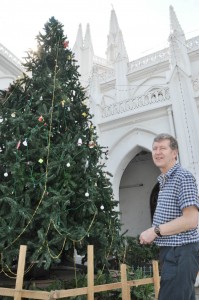 At the CSI St. Thomas Tamil Church a big Christmas tree greeted people. This tree was about 12 feet tall and was set inside the church.  Kumar, a member of this church had decorated the altar and the church with flowers and fancy decorations.
At the Shrine of Our Lady of Light, Luz the church shone in the night as it was fully decorated with small bulbs. The crib was set up outside and many came to pay respect to the newborn child.
The youth group at Our Lady of Visitation Church, St. Mary's Road had decorated a big crib inside the church.
A crib competition was held among the parish members of the Our Lady of Guidance Church, R. A. Puram. 25 families participated in this contest. The winners were Rockline from Srinivasapuram, Rinnie from R. A. Puram, Samantha Serina from R. A. Puram and Arul Raj from Foreshore Estate. They are to be awarded special prizes during the midnight Holy Mass for New Year.
A special Holy Mass was organised for the catechism children of the National Shrine of St. Thomas Basilica and Our Lady of Guidance Church, R. A. Puram. They were treated with cakes. A special sports meet was organised for them.