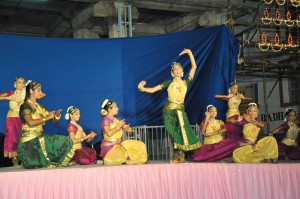 Sundaram Finance Mylapore Festival opened on Jan.5. The first event of the festival was a mike less concert in Nageswara Rao Park, Luz. The concert was by the students of P. S. Senior Secondary School, Mylapore. They were guided by their guru Latha Anantharaman.
There will be similar concerts in the park every morning.
The scene shifted to the neighbourhood of Sri Kaplai Temple. The evening started with a nadaswaram concert by the students of guru Mylai Rajendran.
It was followed by Vanna Mayil. Vanna Mayil is a dance – music – visual production on Mylapore collaborated by guru Revathi Ramachandran.
This show will be repeated ever evening at Sannadhi Square.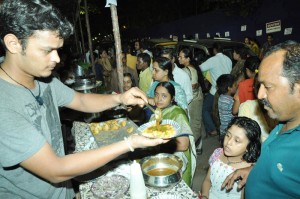 Krithigai Singaravelar procession of Sri Kapali Temple was also held between these events.
The shows on the main stage ended with a puppet show by guru Selvaraj.
The local streets came alive with sale of food, art and craft. The festival ends on Jan.8. For more details see www.mylaporefestival.com.