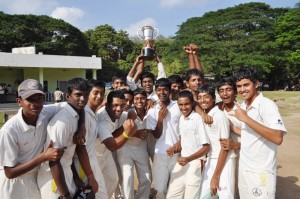 San Thome cruised to a comfortable victory in the Tamil Nadu Cricket Association (TNCA) tourney for schools in the under 16 category and lifted the C. Ramaswamy trophy.
In the final held at the SPIC YMCA ground at Nandanam on Friday, it beat the Chettinad Vidyashram team by 6 wickets.
San Thome had two heroes and both were batsmen.
They were Vishal Vaidya and  S. T. Natarajan. The duo put on 60 runs for the unbroken third wicket partnership to guide the team to victory.
Chettinad had batted first  and scored 134 runs, being bowled out in less than the allotted 50 overs. But there were two bright stars in this innings.
Dhruv M Davey scored 47 runs in 75 balls and B. Pradhan scored 34 runs.
For San Thome School skipper K. Ravikumar this was not a hugely challenging total. As he said later, "We knew we could manage this target."
Ravikumar was overly happy that his two colleagues batted well.
Vishal scored 58 runs and was unbeaten while Natarajan remained unbeaten on 40 runs.