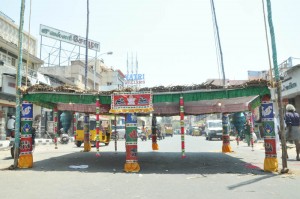 Preparation work is on in full swing at the Sri Kapali Temple, Mylapore for the upcoming Panguni Fest.
Large pandals were set on the four Mada Streets.
Long poles made out of alamara vizhudu (banyan tree root) used to carry the vahanams were polished with oils. These 32 feet long poles are 100 years old. It is used only for selected occasions like Adhikaara Nandi, Rishaba Vahanam and Silver vahanam.
The vahanam used for the Aarabathumoovar processions were also cleaned and polished.
Jayanthi Subramanian a painter had painter the Rishaba Kunjaram inside the temple.
The silver Mushikavahanam that will carry the image of Lord Ganesh in a procession on March 27 was given a silver polish.
Log on to www.mylaporepangunifest.blogspot.in for more details, information, photos and reports of the fest.