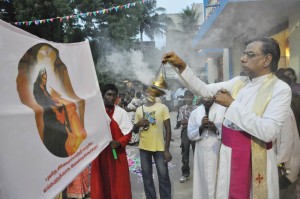 The annual festival in Our Lady of Visitation Church, St. Mary's Road began on May 19 with the flag hoisting.
Rev. Dr. Lawrence Pius, Bishop of Dharmapuri blessed the newly erected flagpole and hoisted the church flag. This was followed by Holy Mass.
This religious services for the fest will continue till May 31.  There will be special novena and Holy Mass held here daily.
On May 27, the Archbishop of Madras Mylapore Rev Dr. A M Chinnappa will inaugurate the newly constructed grotto and then say a special Holy Mass at 7.30 a.m.
This church is in R. A. Puram.