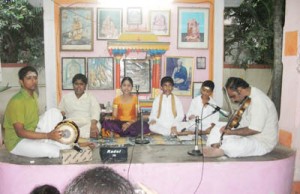 The students of Skandhagana Vidhyalaya located inside the premises of Sri Sankara Gurukulam, Abhiramapuram presented bhajans and vocal concerts at the gurukulam's premises on May 20.
This was organised to encourage young talents, says Saapaasa Adithian, Organiser.
Sri Sankara Gurukulam is located at C. P. Ramaswamy Street, Abhiramapuram. For details call 94441 17713 / 91766 82676.