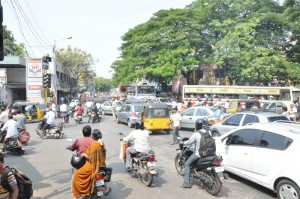 A flyover at the busy Mandaveli junction on R. K. Math Road has been proposed.
This is among the projects in the Chennai Corporation's proposals for  2012 – 2013.
This is among six new flyovers planned for the city.
This busy junction connects Mandaveli, R. A. Puram and Foreshore Estate. It also takes the load of traffic that heads from Adyar to the south and east side of the city.
Since the junction is also a hub with schools, bus terminus and bus depot and shopping spaces, at peak hour time the traffic is huge and chaotic too.
Many buses operate from Mandaveli terminus and the presence of the MTC depot also creates traffic jams and snarls.
<< SHARE YOUR COMMENT.
Do you feel that this is a good idea? How will it impact on the lives of Mylaporeans? Do you have alternate ideas?
Mail your notes to – mytimesedit@gmail.com