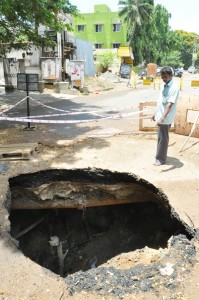 Did the recent earthquake tremor cause the damage to one part of St. Mary's Road?
Well, if you walk down the road beyond the bridge over the Buckingham Canal, leading to the Corporation cemetery, you will be greeted by a huge cavernous hole and a sunken mass of tar, blue metal and soil.
The road collapsed on April 11.
But Chennai Corporation is taking its own time to set things right.
It has been closed to traffic and if residents are to be believed a small puja was performed here ostensibly to signal repair work.
Till last weekend, when this photo was taken there was no sign of men at work.