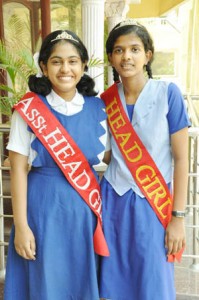 One of the first few events that take place when schools re-opens for the new academic year is the election of the student representative. Some local schools have begun this process.
The election at Rosary Matric Hr. Sesc. School, San Thome was held on June 15.
The school held it in the traditional style with campaigning on campus and talks by the student contestants.
Students of classes 8 to 12 voted for their Head Girl and Asst. Head Girl.
The Head Girl elected was J. Lavanya of Plus One class and the Asst. Head Girl was Felina Eugene Das of Std.9.
Lavanya is a resident of Royapettah while Felina Eugene Das is a resident of Rosary Church Street, San Thome.
<< MYLAPORE TIMES invites students of Mylapore schools to e-mail notes on such key events on campus. Mail to – mytimesedit@gmail.com >>