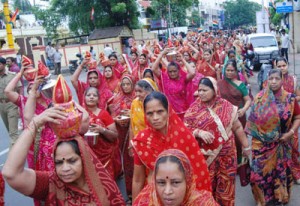 Jain devotees went on a procession on the occasion of Chaturmas Pravesh on July 1.
They were accompanied by Jain guru Upadhyaya Pravar Pravin Rishiji Maharaj Saheb.
About 5000 devotees participated in this procession. It started from S. S. Jain Sthanak, Bazaar Road, Mylapore and reached Hemamalini Kalyana Mandapam on Lloyds Road, Royapettah.
This was held to spread peace, love, ahimsa and the teachings of Lord Mahaveer, says a devotee.
Chaturmas Pravesh will continue with vritham, poojas, spiritual discourses, prayers, bhajans for four months at Hemamalini Kalyana Mandapam.