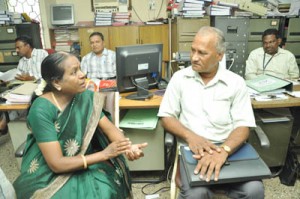 Indian Bank, Mylapore branch organised pension adalat on July 28. This was held at the North Mada Street branch from 10 a.m. to 2 p.m.
Seen in the photo is B. Subbulakshmi, Deputy Controller of Communication Accounts attending a senior citizen, who had come to settle his grievances.
Customers can also submit their grievances through email or at a local Indian Bank branch on subsequent days also.
For more details email to hobod@indianbank.co.in.