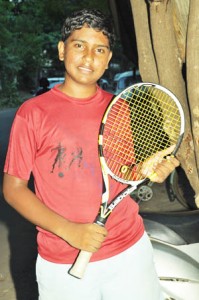 Fourteen year old tennis player R. S. Mohit has been ranked No.1 in his category at the state level.
He is a resident of Abhiramapuram 4th Street.
He is also ranked 50 at the National level, says his mother Prabha, who accompanies him to most of the tournaments.
Mohit is a 9th Std. student of Velammal International School. He has been playing tennis since the age of 9.
"I train at the YMCA and this year I have won five titles including one for being the most promising player award and the YMCA non-ranking Inter Academy title," he says.
Mohit is a regular at most tournaments for under 14 and under-16 players and is often out of town, says Prabha.
The latest to his list of prizes is the trophy in the singles and doubles matches in a tourney organised by an engineering college. This was part of the AITA talent series for under 16 players, says his mother.
He resides at 1, Janaki Avenue, 4th Street Abhiramapuram. Ph: 98416 08008.