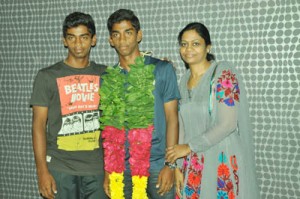 Baba Aparajith, one of the heroes of the India team which won the Under-19 World Cup for cricket will be flooded with greetings and hugs when he arrives at his home located off Dr. Radhakrishnan Salai, Mylapore on August 29.
After a warm reception that the India team received in Mumbai on its arrival after the victory, the players headed home and Aparajith's mother said on Tuesday that she was expecting her son on Wednesday morning.
The Baba family arrived from the airport this morning in a car and were greeted by a nadaswaram party playing classical music. Crackers were burst and greetings were exchanged.
WATCH VIDEO OF THE EVENT AND SHORT CHAT WITH APARAJITH. www.youtube.com/mylaporetv
The family which used to live in the Leith Castle area of San Thome shifted to 5th Street, Dr. Radhakrishnan Salai recently. His father now has an assignment with the BCCI and is currently travelling with the India team as part of the series against New Zealand.
Aparajith played a crucial role in his team's progress to the final and in the final too and has been singled by cricket experts as great material for an all rounder who could play for India.
Aparajith has not failed to thank his grandparenst and parents, his school, St. Bede's in San Thome and all his coaches for his progress this far.
He won two Man of the Match awards in the World Cup matches and played a key role in the final.
Aparajith, born July 8, 1994 began to make a mark playing at the school level. Last year, he was picked for Tamil Nadu's Ranji trophy team. He bats right handed and bowls off breaks and is considered to be an all rounder.
<< Share your comments on and greetings for this young cricketer here – in the Comments section >>