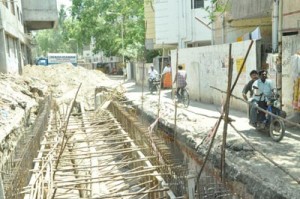 The civic body has been laying storm water drains in the neighbourhood over the past few months.
In many parts, the projects have remained unfinished. One such place is Balakrishna Road in Ganeshpuram, Mylapore. This place is located behind Citi Centre.
Residents here say that across two months the entire stretch of this road has been dug up to lay the drains and it remains in this condition. Residents here say that they find it difficult to use the road, which is only a feet wide now.
Another problem here is that the Corporation water pipe line is broken and it is fixed with wooden planks.
Most of the time the water leaks into the half finished drain and on the road, says Balaji a resident.
"I have spoken to the Ward councillor, area engineer and the executive engineer, but there is no progress or proper response from them," he added.
He says only one or two workers are seen here on a day. They have started fixing the iron rods in the drain. Most of these rods are left in the open and pose dangers.