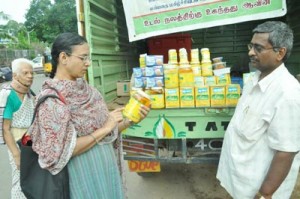 Now, Aavin has begun to bring its products to your street corner.
A mobile sales window is open in two places – at Dr. Ranga Road and near Sri Kapali Temple tank.
This booth functions from a mini van and parks itself only on Sundays.
It has Aavin products like butter, flavoured milk, ghee, mango milkshakes, Mysore pauk and paalkhoa.
" We have been running this mini van booth for the past few months. We want to reach people and serve them closer," says D. Nandagopal, a senior milk assistant.
High selling items are unsalted butter and ghee.
"People can give me a call if they want this arrangement in their  locality," adds Nandagopal.
At Dr. Ranga Road the van  will be available from 11 a.m. to 3 p.m. and near the tank from 3 p.m. to 5 p.m.
The phone number of Nandagopal is 96000 92903.