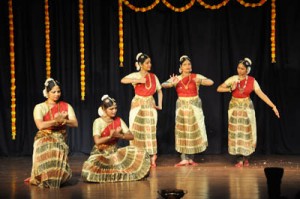 When Roja Kannan, surrounded by over 100 of her dance students cut a huge cake and the lights dimmed, the five-hour long function to celebrate the silver jubilee of Roja's dance academy finally came to a close.
For this Alwarpet-based dancer it was a big day indeed.
It was an idea that took shape in car shed and a career that had to overcome shocks and hurdles. But this evening, it was a time to celebrate a milestone of Bharata Natyalaya at the Smt Sivagami Petachi auditorium on Luz Church Road.
Starting from 4 p.m., Roja presented a series of recitals that showcased the talents of her students – seniors, juniors and the freshers between felicitations to all those who had helped her make the journey.
Sabha heads, dance gurus, patrons.
She also handed over a donation to dance guru Padma Subrahmanyam who is keen to build a temple centre for Bharata muni, said to be the guru of Bharatanatyam.
A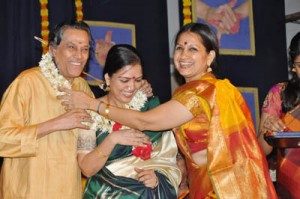 ll through the evening, neither Roja's nor her dance students' energy flag. This was their day and they did their best. The only dull bit was a docu-film that was very long.
But what stood out at this milestone event was Roja's warmth for the big and the simple. And when she finally took the mike, she got emotional talking about her mom and her dad and the family that had contributed to her dance career that was reborn after a hiatus of 13 years.
Besides running the dance academy, Roja also performs and teaches at places like Vidya Mandir, Luz. She is also an active member of the dancers association.
Today though, the high sank into her when it was time to relax at dinner that was served to all guests and invites.