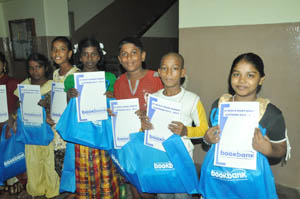 Y's Men Club of Mylapore in association with the Hindustan Book bank sponsored notebooks to 200 under privileged children of St. Bede's night School, San Thome.
The children who are from neighboring slums under go coaching at St. Bede's School. This event was held on Sept.10 at St. Bede's School.
Jayasankar Menon, President of the Y's Men Club Mylapore presided over the program.
Father Bosco, Correspondent and Rector of St. Bede's School and Davis Thomas, President of Old Bedian's Association (OBA) of St. Bede's School, Treasurer of OBA Denzil D'Netto, Vice President Stafford and Committee member of OBA Richard D' Conner were also present for the occasion.