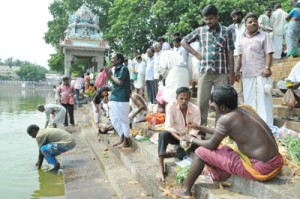 People take part in rituals on the East, West and South banks of the tank of Sri Kapaleeshwarar Temple, Mylapore on October 15 morning.
Being Mahalaya Amavasaya, it was time to offer prayers for the departed.
Thousands of people were seen in the temple tank to observe this ritual.
New shops on the road at the entrance of the tank were selling flowers, plaintain leaves, and other items for the ritual.